Travelling is something more than just packing your luggage and heading to the bus terminal or airport to book a flight ticket. It requires a lot
more.
If you are a student like me with a limited budget trying to travel by air,
you'll probably be looking for cheap flights and other means of transportation that will fit perfectly to your budget.
The most important part of travelling is being aware of the most important channel to use; you can even get cheap flights from Lagos to New York when you go through the best channels
.
Then the next big thing becomes how to pack your luggage to minimize cost. I hope the article is becoming more interesting, we'll now be discussing on how to back your luggage while going on a trip it makes it cheaper and more convenient for you. There are so many other tips to help you pack your baggage properly and avoid extra expenses, especially when on transit through transportation means like flights which normally charge extra if you exceed their specified weights and we will see those tips below
.
10 Tips Every Traveler Should Know
While
preparing to embark on a journey, the tips written below are some of the things you should keep to if you really want to make your journey enjoyable, stress-free and fun. They are all very easy to keep, remember this quote 'he that fails to prepare prepares to fail'.
They range from your detailed lists and preparation to the contents of your bags and so many more.
- Prepare a packing list
The last time I travelled far, I started preparing my luggage more than a week earlier. Actually, it was a camping trip with my friends but the same applies for normal trips. You need to prepare adequately for it so that you won't be forgetting any important thing in the course of the journey.
- Roll your clothes rather than fold them
I learnt this from my friend. I think around two years ago when I wanted to travel to Ogwashi-Uku in Delta State, I wanted to go with only my laptop backpack with all my clothes packed inside, but it refused to accommodate my bag no matter how hard I tried, then I had to roll the clothes and boom, all entered and a little space was still remaining.
- Get a portable travelling bag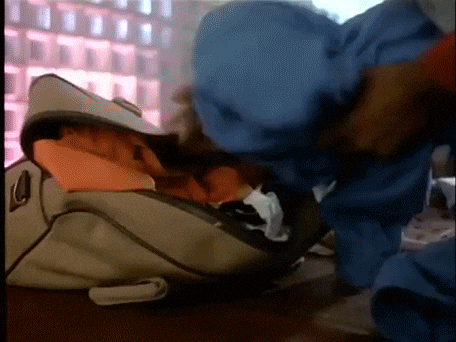 If you don't have one already, it is very essential. Your travelling bag has a lot to add to the comfort of your journey, if you are Nigerian, it'll also be good if you check out these affordable backpacks in Nigeria to make a choice from. Jansport is an online marketplace where you can
purchase assorted backpacks for your travels and tours. They have superior products and are very affordable. They also deliver to your house.
- Footwears
We all know that our footwears like contribute a lot to our luggage. You should put on a comfortable pair of shoes, preferably sneakers like Nike air force 1 high and also pack no more than what you need. This is to prevent any extra charges especially when you are travelling by air.
Imagine putting a can of talcum powder, a jar of cream, your body spray, perfumes and even your bottle of hair-cream inside one bag, then you'll have to get an extra bag so your loads can be accommodated.
- Book your flights earlier
Booking your flights early enough not only saves you the stress of having to rush things, but are also cheaper. It will also help you to know the weather ahead in your destination and know how to prepare for them better.
- Leave everything that will not be essential
Yess oo... even I are guilty of this. If you are travelling with a partner, why not take a laptop rather than the two you guys have? Even laptops are not so necessary as most smartphones can do whatever they do for you nowadays. It's same for any other luggage, drop those extra pairs of shoes, cardigans, suits and even food if you are not going to make use of them.
- Avoid carrying your valuables around
Also, another great tip, avoid carrying your valuables around because pickpockets can be anywhere. Your documents, jewellery, expensive gadgets, clothes and even money should be kept in your lodge.
- Use your shoes to stash some of your items
Some items like stockings and handkerchiefs can fit well into your shoes, why not take that as an advantage? Pack them into your shoes and save the extra space they should have consumed for another item.
- Be nice and polite
No one cares if you are a governor's daughter because even your host destinations have their own governors. Treat everyone like they're royal and watch them return the love to you.
No one can predict what happens at our travel destinations but the truth is that travelling can be very fun and full of explorations. Don't let this journey turn out bitter by some omissions or mistakes which will cost you some funds later.
However, after all, travelling is fun and I can testify to that. What do you think? Have you travelled before? Drop your comments and opinions and do not forget to share with your friends.